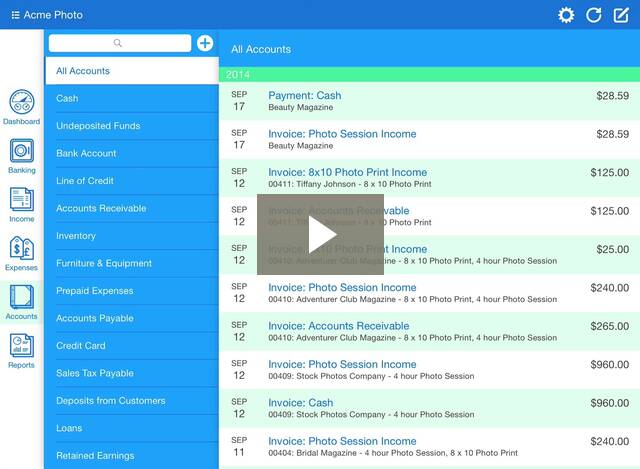 Learn how to use the Accounts section of the iPad app.
This is the fifth of a 7 part series on using the Kashoo for iPad app.
Overview of Accounts section
The Accounts section can be accessed by tapping on the Accounts icon on the left hand side.
So the accounts section will show you a list of all the accounts you have inside the system. If you are familiar with accounting, this would be your chart of accounts. You will find your asset, liability, equity, income and expense accounts. It is all your accounts and every transaction you have recorded in the system.
All Accounts
The left hand side displays the list of all your accounts. Right now the view is selected for All Accounts. You can tap on any account on the left to see only transactions involved with that account
You can also search for an account by typing the name into the search box
The list of all the transactions found within an account are found on the right hand side
To add a new account, you can tap on the plus icon
Individual Account
If you tap on a specific account, you will be presented with some additional options:
You will see the total balance of that account in to the top right
You will see the running balance of the account after every transaction
You can edit the account by clicking on the info icon